Scroll to Top
Button:

What's New

Scroll to Top Button has been updated to version 2.0

There is one notable new feature in this version: you can now change the toolbar icon to better fit your browser's theme. You can select from several different versions of the icon: red, green, blue etc. To do this just go to extension's settings page and select the icon you like. In addition, now you can set your own image for extension's icon (from your hard drive). In case you want to set your own icon, ust go to the options page and load your own image.

In case you need help, below is a quick step-by-step guide:

1) Right-click on the extension's icon and select "Options":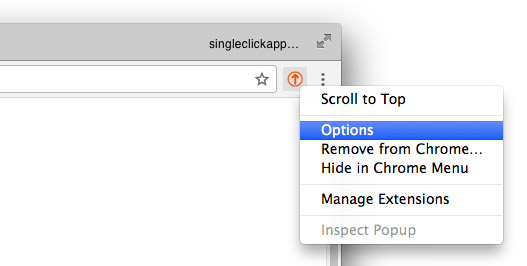 2) And select predefined icon or click the "Choose File" button:
If you select one of the predefined icons or load proper image, you should see the toolbar icon changed immediately. If you are trying with your own icon and it doesn't work: just choose another image or select one of the predefined icons.
Note that your custom image should be 19x19 pixels (bigger pictures will not work well -- only the top/left 19 pixels will be used).
Most popular formats are supported (we tested PNG, JPEG and BMP) but feel free to try others (although PSD will definitely not work;-)

More Extensions
If you like our Scroll to Top extension, feel free to try some of our other addons:
History
On/Off
Control on your browsing history: disable and enable history recording with single click. That's great addition for your browser if you want to keep (some of) your browsing history for yourself.
Single Click
Cleaner
Click once and clean the trash: cache, cookies, history, stored data... it's your call. Use the settings page to select what you want to be auto-cleared. Then just click the toolbar icon.