Plugins
Button

Updated

Plugins Button has been updated

What's New
Version 7.0
1) Permission Scanner
We added "Permission Scanner" that will show you all permissions granted to all extensions in one easy to read table.
Also, the permission scanner will calculate your overal Risk Score (more or less arbitrary, but still useful simple numeric value)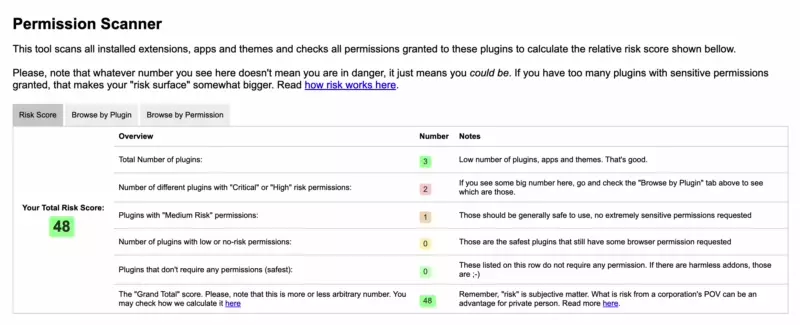 2) Added default shortcut for the Plugins menu
Now you can invoke the plugins menu by pressing Ctrl+Shift+E for Windows and Linux or Command+Shift+E for Mac
3) Various Smaller Fixes
As usual, I fixed some bugs, made the interface little better and downgraded "Tabs" permission to "activeTab" to lower our own plugin permission risk
---
Version 6.1
The plugins menu has been updated to reflect the end of Flash support: the flash related optons has been removed.
In order to keep things simple, we also removed some unrelated options and added new items: keyboard shortcuts and global plugins permissions.
The new menu looks like this: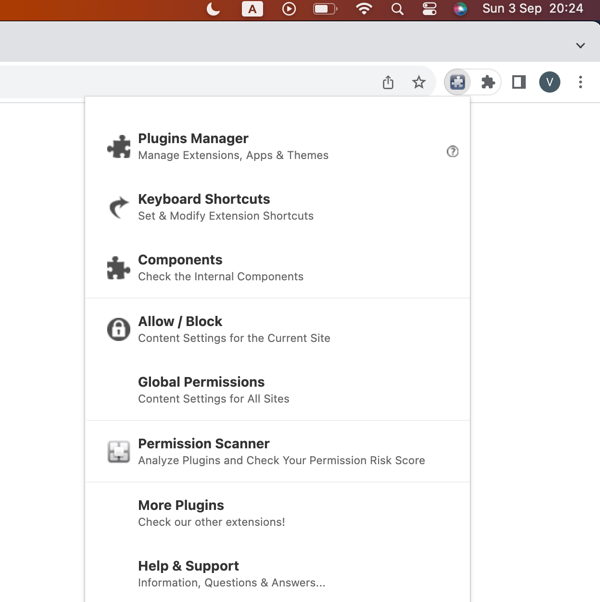 Since version 6.0 the plugins menu includes quick and simple extensions manager where you can control your extensions, apps and themes with few clicks. It does the same as the internal chrome://extensions page, but in smaller and more organized interface.
From the new "Extensions" menu you can access all extensions currently installed, get the basic info about them, enable, disable and remove extensions, apps and themes with single click.
On first start the extensions manager will ask for "management" permission: this is needed in order to load and manage extensions and apps. After that (if you grant it the permission to access the extensions) it will provide you with the list of all of them, organized in categories / types: apps, extensions, enabled, disabled etc.
In action, it looks like this:
It is self-evident -- just click the small "check" icon in the right to enable/disable extension or the "trash" icon to remove it from Chrome. Sort extensions with the top-left buttons. Get more info about given app or extension by clicking on it. That's it -- no need to go and search for given extension in the long and boring "chrome://extensions" page (although it is also accessible from the top-right button, if you need it) -- just open the "Plugins" menu and click "Extensions"...
That's all the important info about this version. There are, as always, other small fixes and improvements here and there, but the major new feature is the extensions manager.
Hope you'll like it.


Older News (change log):
What's new in version 5.0 - Chrome Cleaner and History On/Off buttons added
What's new in version 4.0 - Plugins button completely rewritten to become useful once again
What's new in version 3.3 - Bugfix release
What's new in version 3.2 - option to load your own toolbar icon added
What's new in version 3.1 - additional toolbar icons added (for different themes support)
What's new in version 3.0 - and what happened to the chrome://plugins page?
While we are on it ...
Did you know that we have some other extensions like this Plugins Button? Here are some of them:
Settings
Button
Your quicker way to access the Chrome settings
Add Settings Button to your browser and open the settings panel with single click.
Downloads
Button
The same as the Settings button above, but for the downloads page
Add Downloads Button to your browser and open the downloads with one single click: